"ART NAHA" - Urban Exhibition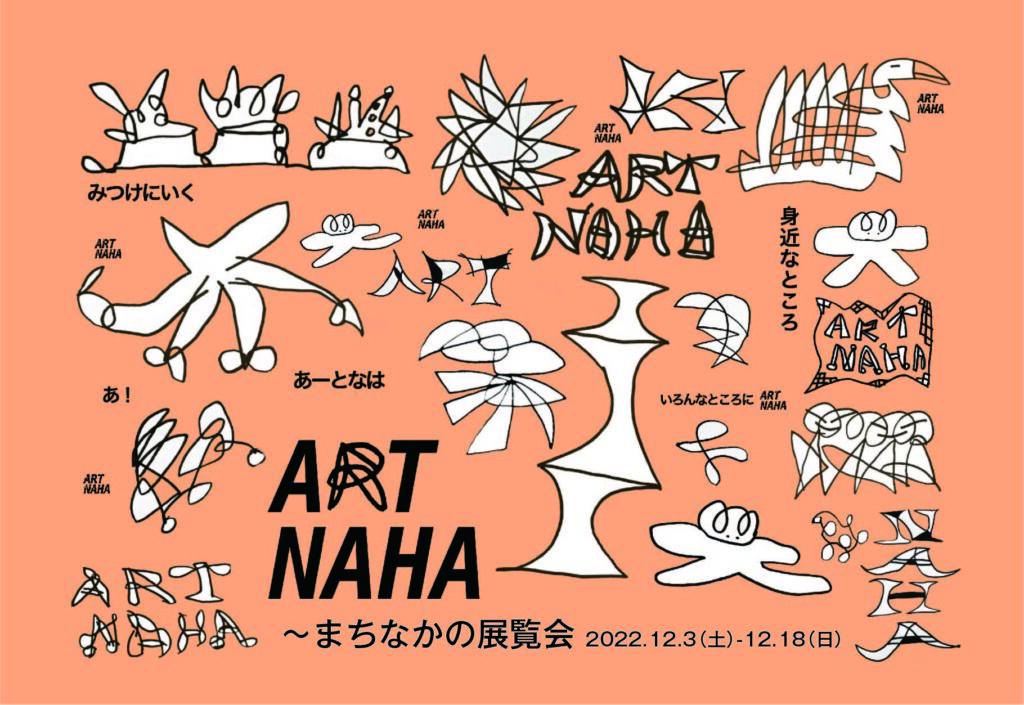 We are pleased to announce "ART NAHA", an international art exhibition taking place in the central distri cts of Naha from December Saturday 3rd to Sunday 18th 2022.
ART NAHA is a cooperation between AIO (Art Initiative Okinawa) and Naha Cultural Arts Theater "NAHArt" and the venue will not be a white cube like art museum, but rather the stores, parks, and vacant spaces around Naha's central districts.
Participating artists will engage an intensive dialog with the social and spatial context of the city and create their works based on intensive research and fieldwork. During the exhibition, symposiums, workshops and talk events will create opportunities for interaction and dialog between the artists, visitors and organizers.
In the 2000s, Maejima Art Center (*1), an independent art space, and "wanakio"(*2), an international art exhibition organized by Maejima Art Center, have inspired a new and very local form of contemporary art based on Okinawa's local identity and on an intense dialog with the civil society.
Building on this experience AIO has organized a number of exhibitions and art projects and starting collaborated with NAHArt in 2021 to connect curators and artists from Okinawa, Japan and abroad to the local community in Naha. ART NAHA will provide an open and accessible frame for exchange, it will connect people from various backgrounds and inspire people through multifaceted art works that are rooted in local context.
*1... Maejima Art Center is an alternative space that has led the Okinawan art scene from 2001 to 2011.
*2... WANAKIO is an exhibition held by Maejima Art Center in 2002, 2003, 2005 and 2008. Participating artists from Okinawa, mainland Japan and abroad, were invited to create their works while interacting with the urban and social context.
Exhibition
Saturday 3rd to Sunday 18th December 2022
*Opening hours are depending on the venue.
Opening and Reception
Saturday, December 3, 2022, 16:00-20:00
at RENEMIA and Makishi Park, near Makishi station
Venues
Naha's central districts, Naha Cultural Arts Theatre NAHArt, and surrounding areas including parks and cooperating stores.
Founding by Hong Kong Arts Development Council
Supported by Ryukyu Shimpo, Okinawa Times, Ryukyu Broadcasting Corporation, Ryukyu Asahi Broadcasting Corporation, Okinawa Television Broadcasting Corporation, FM Naha, Radio Okinawa, FM Okinawa, Naha City Tourism Association, Okinawa Convention and Visitors Bureau
Planning and production by AIO x Naha cultural Arts Theatre NAHArt
Curatorial Team
Titus Spree / Naoko Uchima / Hitomi Hasegawa / Rika Uechi / Keiko Shimabukuro / Naoko Chinen / Shouhei Nakamura
Place Making CAMP-O Cooperative (Mirai Miyahira, Tomotsugu Kudaka, Naoya Isa)
Organised by Naha City  
ART NAHA features the following programs;
Open call program
After screening of numerous applications from inland and outside of Okinawa (including overseas), three artists have been selected to participate in this open call.
Judge
Roger McDonald / Tatsuki Hayashi / Rika Uechi / Naoko Uchima
Artist
Keiko Nomura
Anna Manabe
Yuni Hong Sharpe
Cross Over Exhibition
Selected artists will present sound, visual, and performance works based on research and practice in the local community that has started in 2021.
Artist
Midori Onaga
Hiromi Tsuha
Misaki Kodama
Yuji Ueno
Mayako Koja
Takuichiro Inuzuka
In-between Islands - Hong Kong-Okinawa Exchange Project

Tang Kwok Hin, a participant of workshop at "Documenta" held in Germany this year, will stay in Okinawa for a residency and work on a series of exhibitions, symposiums, and talk events with other Hong Kong artists.
Artist
Tang Kwok Hin
Natalie Lo Lai Lai
Li Ning Fung
Silas Fong
Map Ocean
Cross Border Project
The Cross Border Project will create a space for dialog across borders and connect Okinawa to the world. Artists from a variety of backgrounds will show photography, film, and installations works that engage the viewers in a dialog with Okinawa's contemporary reality.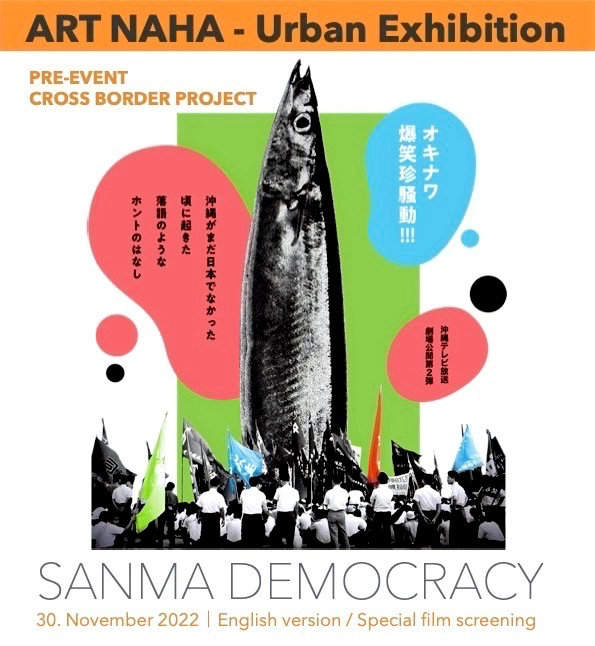 Dates | 30th November 2022 Door opens | 18:00 
Starts | 18:30 to 21:00 Film 99 mins + Talk 30 mins
Place | Punga Ponga Address | 1-11-11Makishi *Please use coin parking lot
Ticket | 1,000 yen + order(日本語上映、英語字幕付き)
Guest | Magoari YAMAZATO Interpretor | Titus SPREE Facilitator | Naoko UCHIMA
What is democracy? The Okinawan people's appeal to the ruling U.S. was a simple question. The story begins with the case of an old lady in the U.S.-occupied Okinawa against the tariffs on saury.
This documentary about the people of Okinawa, who challenged the U.S. rulers for the right to self-government in the U.S.-occupied Okinawa, was inspired by a lawsuit brought by a grandmother regarding the tariff on saury.
Okinawa Television Broadcasting took a close look at the struggle for democracy between the citizens and the government. Film was directed by Magoari Yamazato, most respected documentary film maker in Okinawa. He is know as aa producer of "Chimugurisa: Nanohana's Okinawa Diary".
For booking, contact us at naoko@artinokinawa.com or 080-3957-1656
Please tell us your name, email address and phone number.
Artist
Aleksandra Nowysz
Greg Girard
Linda Havenstein
Young Sun Noh "Yukiko"
Junichiro Oshige "To Niraikanai in home of origin: The Soul of Yasuo Higa"
Magoari Yamazato "Sanma Democracy"
Sueyoshi Park Art Challenge / Pre-event, workshop and exhibition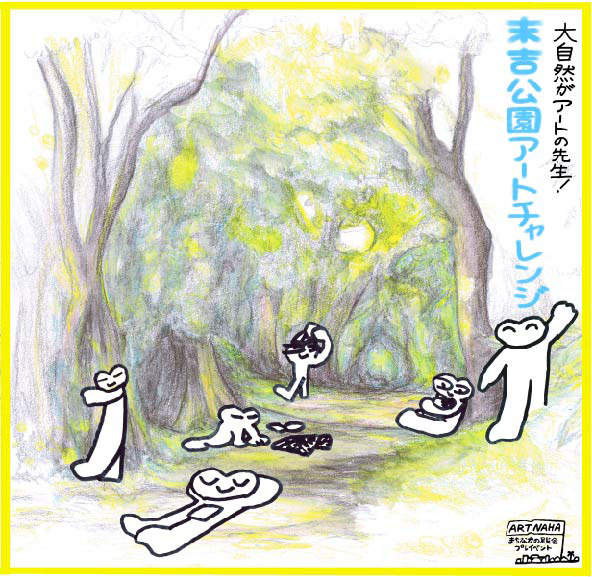 Nature is your art teacher! Participants will create artworks while feeling the nature of Sueyoshi Park. Completed works will be exhibited at NAHArt.
Navigator
Kei Matayoshi
soremomatayoshi
For the latest information on ART NAHA, please visit the following websites
ART NAHA HP|https://artnaha.okinawa
AIO Facebook |https://www.facebook.com/ArtInOkinawa